Everything you need to know about low-code development platforms from Zoho Creator
The term low-code development platform has been steadily gaining traction in the business world. It's a term given to platforms that can help users rapidly build and deploy custom applications with less coding than traditional development. According to Gartner, "by 2024, low-code application development will be responsible for more than 65% of application development activity." Quite a few businesses have started to realize the potential of these platforms and are actively using them in their digital transformation journey.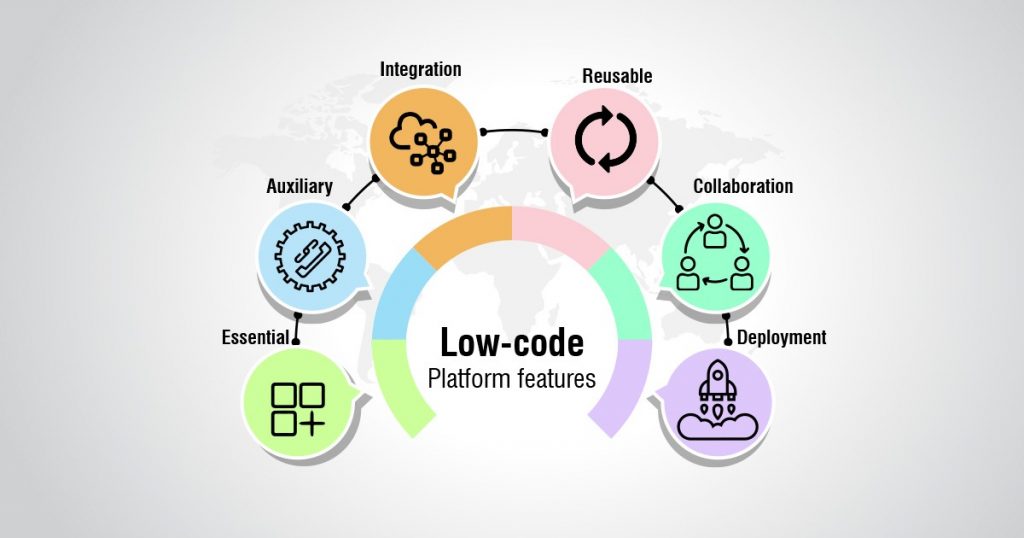 What is a low-code development platform?
A low-code development platform allows non-programmers to create applications with little to no programming knowledge, through prebuilt code snippets or blocks, with a drag and drop visual interface.
Furthermore, the platform eliminates the need for creating frameworks, linking databases, and other tasks that are typically included in traditional development. It also reduces the gap between business and IT, as both teams are working together to solve a real business need. It makes development easier so that even people without programming skills can develop applications on their own.
With low-code platforms, your IT teams can develop applications faster and with fewer errors than traditional coding. They don't have to spend months building an app from scratch, as these platforms provide standard components, such as forms, report templates, and ready-to-use code snippets.
And most low-code platforms also offer readymade applications that can be installed and customized based on user requirements.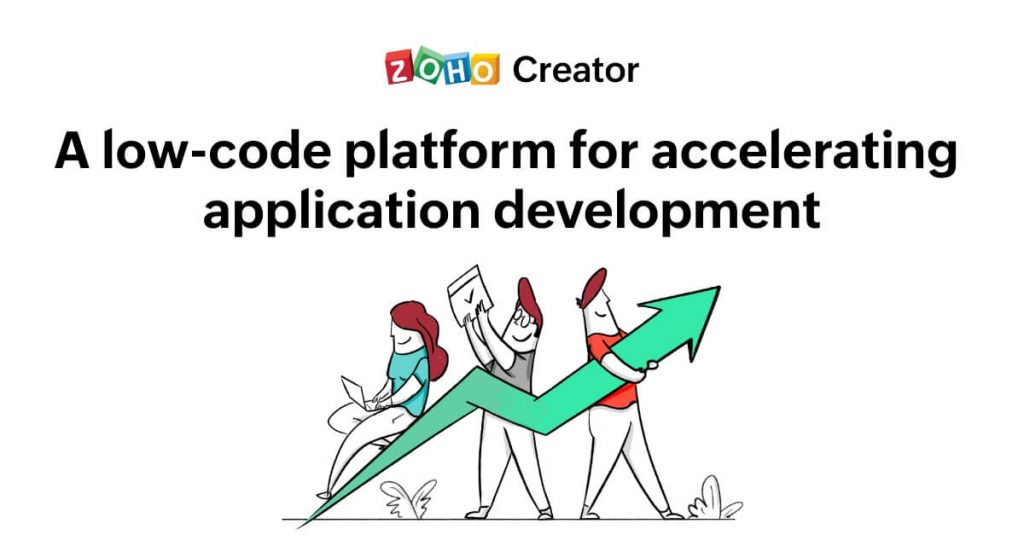 Features to look for in a low-code platform
Before switching to a low-code development platform, it's important to look for the following features:
Visual modeling
The visual modeling interface of low-code platforms allows you to see how your application looks as you build it. The visual models are easier to understand than traditional coding text, which enables non-developers to grasp application design quickly. This also makes it easier for business users, as they know the logic of what they want to create.
Drag and drop configuration
Low-code platforms offer simple drag and drop interfaces, which help users and developers create applications visually, resulting in faster deployment. This is one of the most prominent features of low-code platforms, and something that is basic to all of them. It's faster and easier to manage code through visual modules.
Security
The platform on which you choose to build your business applications should be secure, and offer features to make your apps safer. It won't appeal to users if the application isn't dependable, regardless of how functional or aesthetically pleasing it may be. When handling sensitive data, you can't risk using something that potentially opens up a gateway to hackers. The right platform will have all the necessary security framework certifications in place, and proven experience with large-scale initiatives. Built-in security features make low-code a safe, reliable solution for internal processes in industries that deal with sensitive data assets, such as financial services and healthcare.
Multi-device deployment
If you're building an application using one of the many low-code platform solutions on the market, this is a great feature to have. Building an app with multichannel compatibility—which lets your staff access it from anywhere in the world—makes things easy. You only have to create an app once, and it should be accessible on any device. Cross-functionality is imperative, since not all of your users are on the same device or platform. And with low-code, there's no need to code for every single platform and operating system on the market.
Scalability
Another significant feature that should be noted is the scalability of low-code platforms. The applications created should allow you to add more users as your organization grows. Providing access to users based on job roles can be a difficult task when the number of users involved is huge. With a low code platform, providing access to the application is easy. You can control what end users can do at both broad and granular levels. You can designate whether the user is an administrator, a specialist user, or an end user, and assign roles and permissions based on the employees' positions in the organization.
Benefits of implementing a low-code development platform
Low-code platforms are built to be beneficial to business users trying to create an application, and developers looking for a quicker development method.
Here are some of the benefits of a low code development platform:
Faster development
Rapidly evolving businesses require technology that keeps up with changing market trends. And low-code development platforms can be essential in such environments. The edge that low-code development gives is its ability to impact the delivery of new software significantly. Visual development is the key feature that facilitates this unmatched speed.
In the long run, apps built with low-code platforms help organizations become more agile. Say the user needs to add a new module or modify an existing one—a good low-code platform will support this without any breakage in the process.
Improved productivity
The knock-on effect of agility is that your development teams are now free from time-consuming menial tasks, like updating data whenever there's a change. This gives the team more time to focus on coding, where human ingenuity is necessary. It also allows business users to create their own apps, which saves a substantial amount of time for developers. This also improves productivity for business users, as they don't have to wait for developers to get to their request. As a result, projects will be pushed out faster, more efficiently, and at a higher standard.
Risk management
According to Forbes, organizations are finding it hard to keep up with ever-changing regulations. This is where a low-code platform comes into action. They allow faster transformation so you can meet requirements and stay ahead of deadlines, by enabling control of all risk management processes within a centralized platform. A good low-code application development platform can help reduce the amount of data at risk.
For example, maybe the marketing department wants to add its content to the app after publishing it. This is probably not a concern. On the other hand, what if your sales department were to keep highly personal customer information in the same app? Now, this is potentially dangerous. In these situations, it's easier with a low-code platform, where you can add users and provide access to teams based on their roles, so that sensitive information stays safe.
Furthermore, it eliminates the skills gap while streamlining application maintenance and updates. Updating a low-code application for data security is easy and saves time.
Flexibility
Change is inevitable. But a low-code development platform makes changing applications and adapting them to new requirements easy.
Whether it's a simple task or a complex workflow, users can achieve it without writing endless line of codes. Low-code provides capabilities that allow users to implement new structures or operation system models rapidly. These platforms have features that have been tested by different implementations, so the chances of bugs or security flaws are significantly reduced. And with the ability to build more apps in less time, costs automatically go down. It also reduces the need for more developers, reducing hiring costs and bringing relief to already-stretched development teams.
Customer experience
Visually appealing apps made using low-code enhance the end-user experience. Customers can get fully functional applications within weeks—or even days. This increases the understanding and responsiveness of the whole team, keeping them on the same page without distractions. Much of that time, which might be spent developing apps by traditional means, is saved when using a low-code approach. Instead, the saved time can be effectively and efficiently utilized in delivering richer customer experience.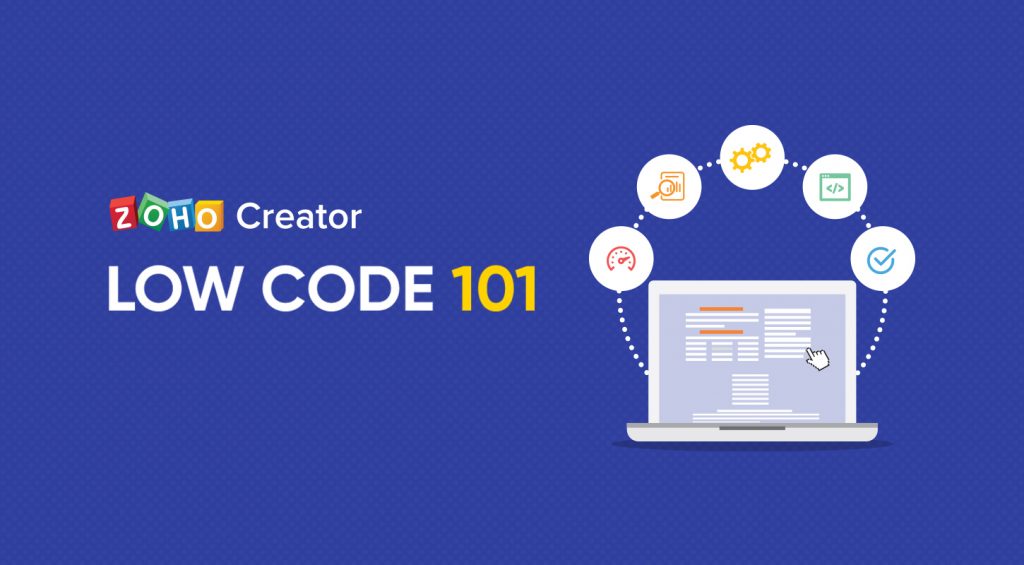 Easily manage your business with Zoho Creator
In a world that's changing fast, the ability to identify and respond to digital innovation opportunities more quickly than your competitors will determine if your company sinks or swims.
Low-code platforms are revolutionizing the way applications are developed, and it's going to be the key software delivery platform in the coming years. This is because it's expensive to hire skilled technical resources to continuously develop in traditional coding languages. There's always going to be an increase in demand for applications from businesses, and they'll need a low-code platform to be able to address that.
The world of low-code development is an exciting space to explore, and we're in the midst of a massive change in how IT interacts with other departments. Now's the time to invest in low-code platforms and embrace technology as an essential part of the organization.
You can start by choosing the right platform, with the features you need to build a customized application for your organization. Zoho Creator is a low-code platform that enables users with minimal technical expertise to create, edit, and run their automated processes—it gives any organization the power of app development. It's been featured as a Challenger in Gartner Magic Quadrant for Enterprise Low-Code Application Platforms (LCAP), 2019. And its intuitive interface and ready-to-use code snippets make it easy for anyone to be in charge of the processes that matter most.